In the same way when you look at a beautiful setting that accentuates a gorgeous gem, your eye glances to the surrounding circumference of the edge style that embraces and compliments your countertop.  Choosing the edge style to add your own individual feature by "Adding A Little You" enhances your enjoyment throughout the years.
We offer standard and upgraded craftsmanship edge styles – from simple, traditional, modern, classic, elegant, and even rustic.
The list below shows our common edges.  Most companies list all their edge styles together and you need to consult with them if your type of material will work with your favorite edge.  This may lead to disappointment when you find something you love.   We take the guess work out of it and make it easy for you by separating each type of edge style by material to ensure that you choose an edge that compliments and works with your chosen countertop material.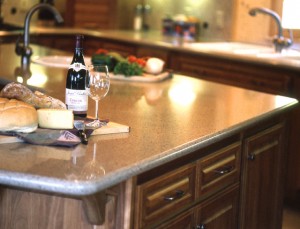 If you have a specific design requirement, we also specialize in custom edge profiles.  The more elaborate the edge, the more it costs to make.  Please consult our Sales Team for cost of upgraded edges – we are at your service.